In order to install Windows on your Mac, you will need to purchase and download Parallels (unless we have spoken to you and recommended using bootcamp, are already using bootcamp or are using a PC). You can purchase Parallels and download the free Student edition of Windows from https://risd.onthehub.com . Be sure to give yourself plenty of time for downloading and installing as the files are quite large. If you have downloaded your free copy of Windows 10 previously while at RISD, you will not see an option to get Windows as they only allow you to download the OS once. Check the bottom of this post for more information.
Once you download the Windows 10 ISO (the installer file) and Parallels, install Parallels first. It will then guide you through installing a virtual machine (where you will run Windows). You will need the ISO file on your computer or a USB thumb drive and your License key but the install should be fairly automated with Parallels.


You will find Windows under the "Microsoft" tab and Parallels under "More Software" tab.
You should buy the Parallels Desktop 12 for Mac, not the version with the "access bundle".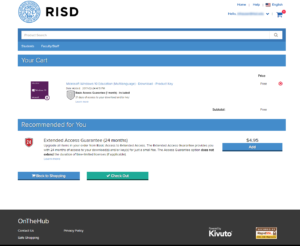 This is what you should see for windows once you add it to your cart. If you can't find it, read below:
Can't Find Windows on onthehub?
If you previously installed or downloaded Windows 10 from onthehub, you will need to find the email that contains your license key that was sent when you originally. If you don't have this you'll need to talk to OIT to retrieve it or pay for a new license. You can get the ISO file (the disk image of the installer) from OIT, another student or we will try to have Marylin have a USB drive you can check out with the file.